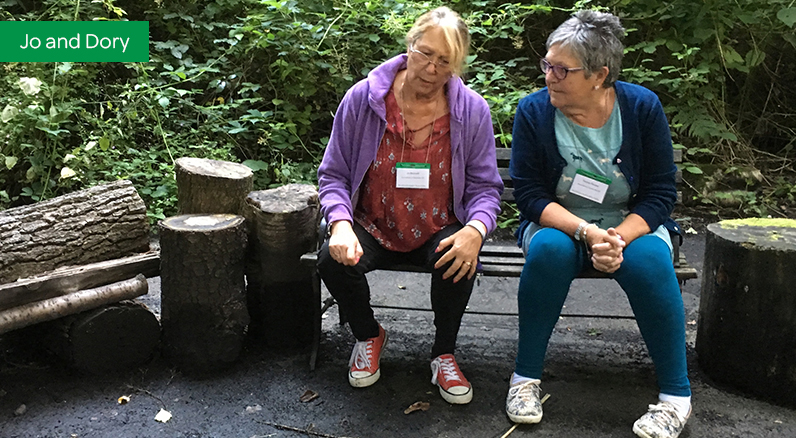 Recovery and Discovery
By 'recovery' we don't mean that people can recover from dementia – but that people can recover voice, control, identity and a place in their relationships and communities which sometimes get lost.
We believe that people with dementia should have the opportunity to discover new skills, new relationships and a new perspective on life.
'My biggest complaint about living with dementia is other people'
(Richard. Retired headmaster, living with dementia)
Richard expanded on this, giving examples of exactly what 'other people' did. 'Other people test me, correct me, point out my mistakes, talk over me, ignore me and sometimes blame me'. His peers around the table all agreed, mentioning anything other than the organic process going on in their brains as their biggest complaint about living with dementia.
The brain may be losing its potential over time but so many other factors prevent people reaching that potential. So we believe recovery IS possible – in terms of recovery of voice, choice, control, identity, citizenship and belonging amongst other things.
Our work has provided countless examples of a recovery.
'Since coming to Minds and Voices my life has changed. I've never been so busy nor had such a social life'
Elaine, York Minds and Voices DEEP group.
Since we started in 2007 we have been inspired by people with dementia who have shown us time and time again that while a diagnosis of dementia might be life-changing, it need not be life-ending.
By inspiring challenging and different conversations about the lived experience of dementia. Innovations in Dementia are seeking to develop a newly emerging narrative about dementia across the UK. We adopt a philosophy of recovery and rights, within the social model of disability.
We aim for our conversations to be co-led by people with dementia themselves, who will be remunerated as consultants/trainers as any expert should.
This participatory approach will ensure people with dementia (the beneficiaries of services) are proactively engaged in the development and design of services, rather than passive recipients.
We can help you introduce a service designed developed and delivered by people themselves. Contact us if you wish to be at the centre of policy and practice innovation in your area.