At this year's Dementia Congress in Brighton I sat alone and listened to the Tom Kitwood Memorial address – a rare opportunity amidst a mighty presence and input by people with dementia via the DEEP network. I found myself reflecting on my 20 years working in the dementia field, being inspired by Kitwood's work as a bright young thing in 1998 in my first 'proper' job, supporting long term, citizen advocates for people with dementia living in care homes in the London Borough of Greenwich. People who had no-one else in their lives to speak up for them and with them. Our volunteer advocates stood side by side with people, finding ways to collect and honour wishes, hopes and feelings, when verbal communication was impossible to articulate. Side by side at very difficult times of transition, following crisis and trauma. Side by side looking towards end of life and death.
Fast forward 20 years and I'm still working in dementia. I can't imagine being anywhere else. At Dementia Congress people with dementia were front and centre stage, running as a golden thread, with family carers, throughout this conference. But, of course, these people are few in real terms, and the experiences of the remaining population of people with dementia are many. I recall my colleague Steve Milton, when leaving his 8 years of running the Alzheimer's Society's dementia helpline, reflecting with huge sadness, that while he'd personally spoken with some 30,000 people affected by dementia, in real terms the numbers, especially of people with a diagnosis of dementia were pitifully small  – "what about the rest" he asked?
But the danger of focusing on the hugeness of the task just paralyses us.  Similarly,  dismissing activists with dementia as 'unrepresentative' does not help to bring the voices of people who are considered to have more advanced dementia to the forefront, nor does it recognise the ever steeper mountains they climb away from the spotlight. As Fran Hamilton, an Occupational Therapist and co-ordinator of the newly formed D-Mob group in Brighton reflected about the engagement of people with dementia: "There isn't finite room, only an ever-expanding space for the voices of people living with dementia. This is how the landscape is changing and we get to end stigma." DEEP is full of quieter voices, people who live in care settings, people who have had dementia for many years, people who have more advanced dementia, and are sustained by their families, their networks and their DEEP groups.
I'm so proud to see a network of and with people with dementia flourish and grow. DEEP isn't the only network and it isn't the only way of working. I don't think anyone at Innovations in Dementia or within a DEEP group would say it is. But I've learnt such a lot from the hundreds of people with dementia I've worked with – echoes of their voices whisper to me at times of doubt, none louder than Lily, my grandma who, when living with advanced dementia in a care home addressed my 16 year old self to "never forget that I'm still in here." With our recent Big Lottery funding we will be 'capturing the story' of DEEP groups for the next 18 months. Marking hundreds of moments in time and recording legacies with people with dementia.  It's just a moment though. There is so much growth still to come. I'm honoured to have recently been nominated and accepted as a Fellow of the Royal Society of Arts– with its mission to enrich society through ideas and action. Innovations in Dementia is a tiny organisation of committed people. We can't do this alone and have never claimed to do so. We want to inspire different conversations about dementia and hope you will join with us in constructive and respectful discussions. The space available for social change is infinite.
By Rachael Litherland, Director, Innovations in Dementia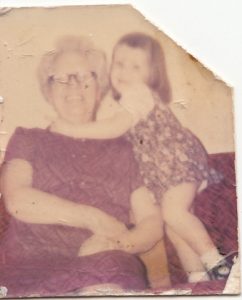 Me and my Grandma.