At last! People 'who experience non-physical ('hidden') disabilities that result in very considerable difficulty whilst walking should be considered eligible to receive a Blue Badge'.  So… those with so-called 'invisible disabilities' – including dementia – can, from 30 August 2019, apply for a Blue Badge parking permit, which allows their car (whether they are drivers or passengers) to be parked closer to their destination. The recent announcement marks the biggest shakeup to the scheme in nearly 50 years.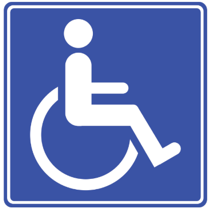 As a result of the consultation, automatic entitlement to the Blue Badge will be extended to those in England who score 10 points under the Personal Independence Payment (PIP) mobility test of being "unable to undertake any journey because it would cause overwhelming psychological distress to the claimant". Entitlement will also be extended to those who are assessed as having an enduring and substantial difficulty which causes them during a journey to either:
Be unable to walk.
Experience very considerable difficulty whilst walking, which may include very considerable psychological distress.
Be at risk of serious harm when walking; or pose, when walking, a risk of serious harm to any other person.
The new rules also allow local authorities to use a broader range of professionals to assess the nature and effects of an applicant's particular disability on their ability to get around. However, despite the new criteria, local authorities will still have the final say on who does and does not qualify for badges.
………….
Many people have been involved in this campaign – not least groups in the DEEP Network. Here's a summary of the role they have played: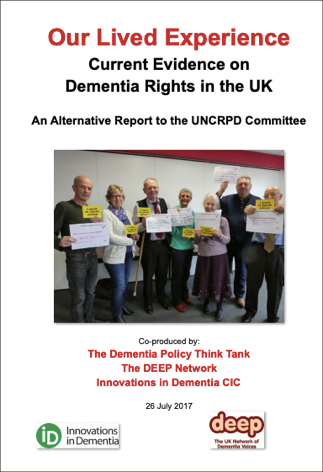 Two years ago, in the summer of 2017, we co-produced a report about Rights with a group of people with dementia (the 'Dementia Policy Think Tank'). This included lived-experience evidence about parking.  One of the group, Keith Oliver, travelled with Philly Hare to Geneva to present this report to the UN Committee on CRPD, and he also had a private conversation with the Rapporteur at which the Blue Badge issue was specifically raised. The Rapporteur was amazed that people with dementia had been denied access to this in England.
Keith and Philly Hare subsequently raised the issue again at a meeting with the Office of Disability Inclusion (ODI) in October 2017. Within months the Government launched a national consultation on the Blue Badge scheme.
Meanwhile a group of people with dementia in Scarborough – called DEEP Vibes – were starting to campaign on the same issue, following a meeting of three Yorkshire-based DEEP groups to discuss 'Our Right to Get Out & About'. People with dementia identified a number of problems that entitlement to the Blue Badge could do much to address. These included:
risks of abduction, abuse or a fall to the person left while their carer parks
getting lost, frightened, upset, panicky and perhaps aggressive
being unable to walk a long way from a normal parking space due to lack of road sense or poor balance
[when driving] having to park far away and forgetting later on where they parked.
There were also issues around application:
the medical tests were measures of physical ability rather than mental ability or need for supervision
questions on the form and in the Mobility test focused on physical ability, not the need for guidance and supervision
after you've been through "all that expense and confusion", you may not even be awarded the badge
under-65s must be on benefit to qualify
decisions varied by area: postcode lottery
and the forms were too complicated
Spurred on by their growing understanding of their human rights, under the UNCRPD and the Equality Act, the group gathered a range of evidence and quotes. They then wrote to their MP, liaised with the local council, highlighted the issue in the local media and set up a petition which got well over 1000 signatures. The MP took the petition to Westminster and presented it to the Transport Minister.
The group also produced some photos with their messages on them.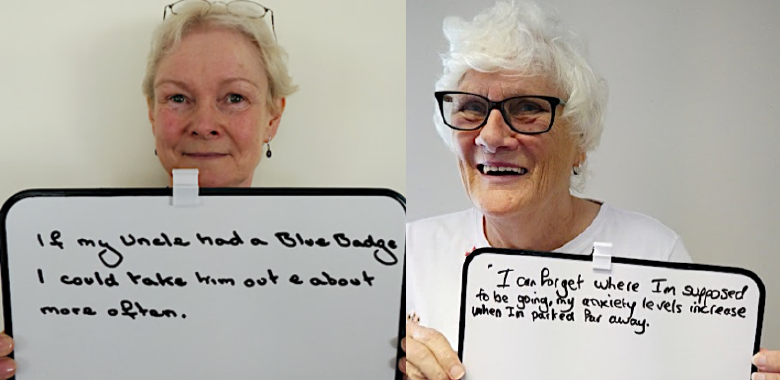 Locally there was relatively quick success. The County Council agreed that people with dementia or their carers could now apply for a Blue Badge over the phone – and answer "cognitive questions" such as "How will a Blue Badge help you?", "Do you want to give up and go home if things go wrong when you are out?"
The work done by the group also enabled us at Innovations in Dementia  to send in a very strong response to the Department for Transport when they opened the Government's national consultation on the Blue Badge scheme in March 2018.
We stressed the evidence we had collected about the social exclusion caused by current lack of access to the Blue Badge and its direct contradiction of the Government's strategy of 'Living Well with Dementia'. We also highlighted the lack of parity across the UK, with many people with dementia in England feeling discriminated against in terms of eligibility for the Blue Badge, and its concessions and privileges relating to parking.
And then, in June 2019… the new changes to the scheme were announced. A fantastic result!
………….
However… this is only the start of making the scheme fully accessible to people with dementia – even if they are eligible for a Blue Badge.
We have already highlighted to the Government the additional problems concerning the complexity and cost of applying for the Blue Badge, as well as the inadequacy of disabled parking bays, and the local variations.
So what needs to be done to make these changes really meaningful for people with dementia  – and how can we all play a part?
local authorities must be made fully aware of the new guidance and encouraged to apply it to their local scheme.
the changes need publicising very widely to ensure that many more people with dementia apply (whether they are newly diagnosed, or have had dementia for a while – and even if they have been turned down before). A proactive campaign involving health and care professionals, advice givers and third sector organisations would seem essential.
we must all spot ongoing problems and issues in the implementation of the new guidance, and highlight them to those in authority
local disabled parking bays should be reviewed and made more consistent. There are different rules in different places – sometimes you can park anywhere (e.g. in metered carparks), other times you can only park in allocated spaces. Some bays are only for disabled drivers (e.g. at hospital), not for carers. There are often not enough disabled spaces – more are needed. And spaces are often not wide enough.
we need to educate the public about invisible disabilities – public attitudes can be very aggressive.
the application forms are currently very complex, demanding a range of documents, and the cost is prohibitive to some (including cost of photographs). Most people with dementia would need help to apply, but not all have that help (one third of those in the community live alone).
finally, it is essential that people with dementia are offered a whole range of ways in which they can apply (e.g. phone, face-to-face, email, online, letter). One or two options will never meet the needs of everyone.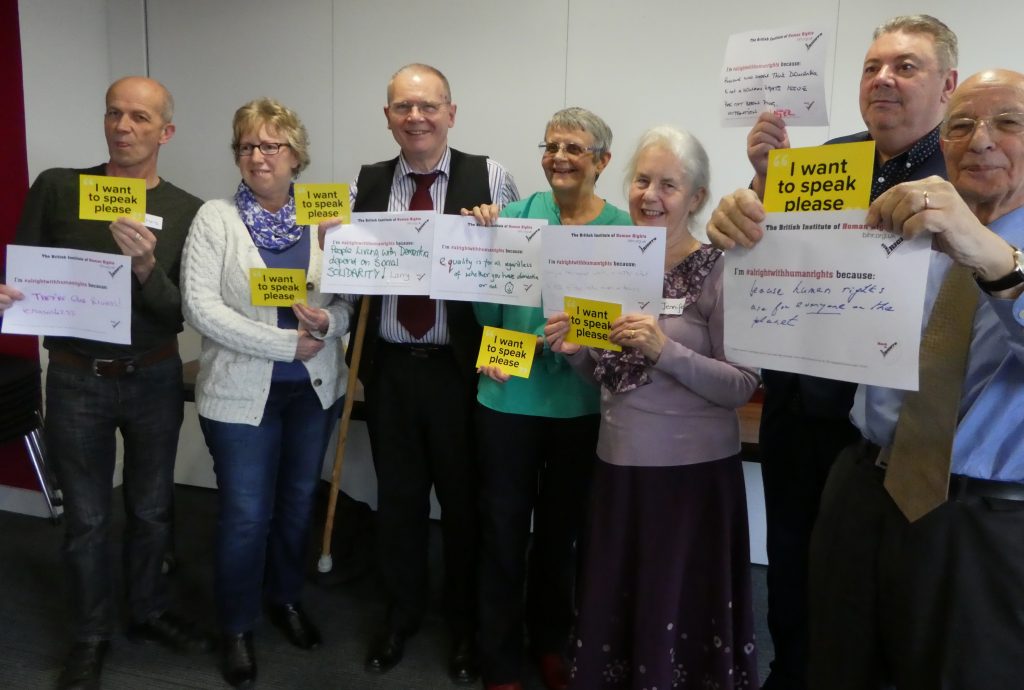 All of these changes are essentially 'reasonable adjustments' under Equality legislation. Which means that, without them, the human rights of those living with dementia will still not be adequately addressed.
Philly Hare
Co-Director, Innovations in Dementia