It is 10 years since the DEEP network emerged from an important piece of scoping work by the Mental Health Foundation.
Throughout 2022 we have been celebrating this significant anniversary with people from across the DEEP network. We have been celebrating and honouring DEEP's many voices and achievements. Across the year there have been 17 in-person events, ranging from tea parties to country dancing to accessible bike riding, as well as conferences and meetings. You can watch a variety of films that capture moments of DEEP connections on our special anniversary website.
DEEP stands for Dementia Engagement and Empowerment Project. It is not an organisation, but a network of over 80 independent groups of people with dementia across the UK. DEEP engages and empowers people with dementia to influence attitudes, services and policies that affect their lives. There is a power that comes in connecting to each other – people with dementia shoulder to shoulder, initially in their local group, but magnified when they stand together as the DEEP network.
"We all have the power to influence and change what happens in the dementia world: in our home, or street, our town or our country."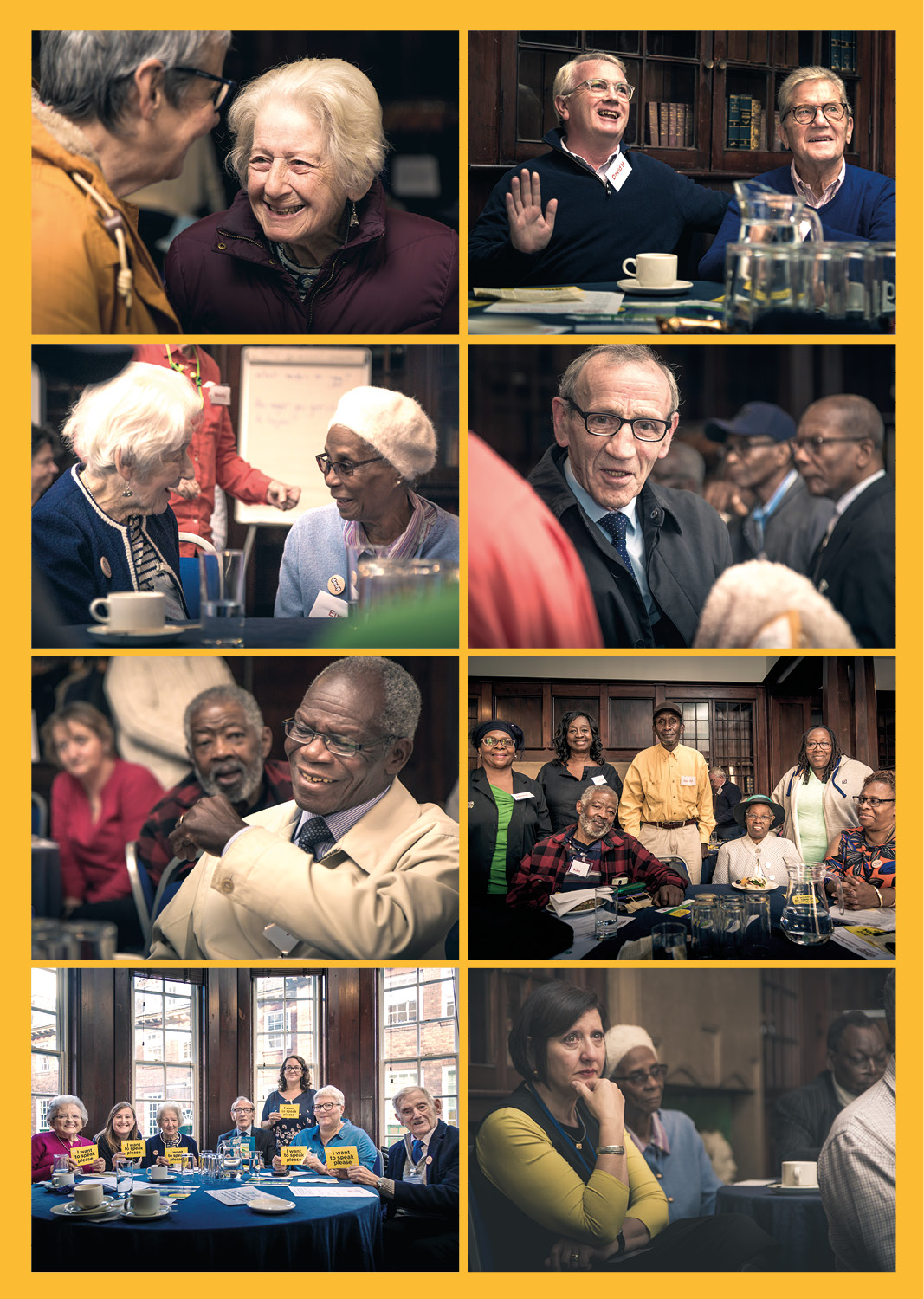 DEEP started life as a one-year scoping project in 2011, funded by Joseph Rowntree Foundation. The aim was to find out how many 'involvement groups' of people with dementia there were in the UK. We also wanted to know how the groups worked. 17 groups and activities were counted at the end of that year.
From 2012-2015 the DEEP network started to take shape, hosted by Innovations in Dementia and with funding from Joseph Rowntree Foundation (and Comic Relief from 2013). Groups were supported to be in touch with each other – to share ideas and good ways of working. A national user movement of people with dementia was being built. By 2015, DEEP consisted of 50 groups.
The next phase of DEEP (2015-2019) saw a period of growth to over 80 member groups, with the efforts of Rachel Niblock and Paul Thomas, who took on development roles with DEEP. Until 2019, DEEP was funded by Joseph Rowntree Foundation, Comic Relief and Life Changes Trust (for work in Scotland).
Click the image below to view it full size and zoom to enlarge.

In this fourth and current funding period, we are delighted to be supported by the National Lottery Community Fund until the end of 2023. We were also delighted that Rachel Niblock continued in her role as DEEP co-ordinator, now for the whole of the UK.
In this phase we are much more explicit about the importance of connecting voices of people with dementia to achieve influence, social change and peer support via the marshalling of human stories. DEEP is not top down, rather knowledge is generated by people with dementia. It is grounded in people's lives, rooted in rich values and can disrupt the status quo, changing understanding of life with dementia. With the DEEP network we have been exploring ideas of power and control and how people with dementia can be in the driving seat.
We must thank wholeheartedly the different funders of DEEP who have supported the collective potential of people with dementia. They have:
Supported more people with dementia to have their voices heard and to find new ways to do this
Ensured these voices can have maximum impact in the places where they can do the most good, not least between people with dementia
Placed more control in the hands of people with dementia themselves
In 2020, along with the rest of the world, DEEP faced the challenge of the Covid-19 pandemic. DEEP was buffeted by the storms that arrived, but relied on its values and foundations to withstand, adapt and spread – just as the "Mighty oaks from little acorns grow." [14th century old English proverb].
Many groups have captured their stories in visual representations of trees – creating collective and connected stories of hope, strength, shared values and belonging.
This is the Forget Me Nots story: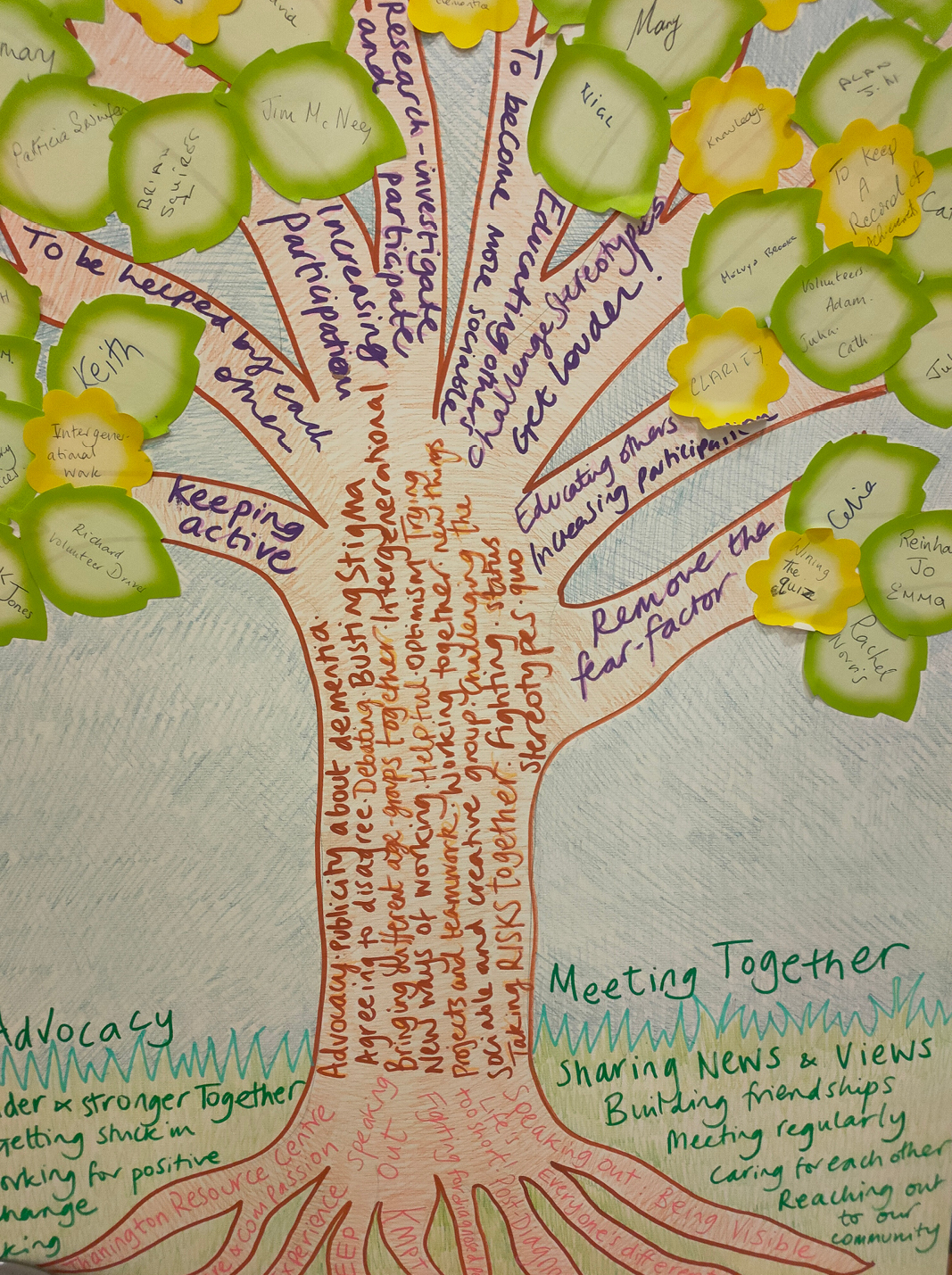 And this is the DEEP Oak Tree –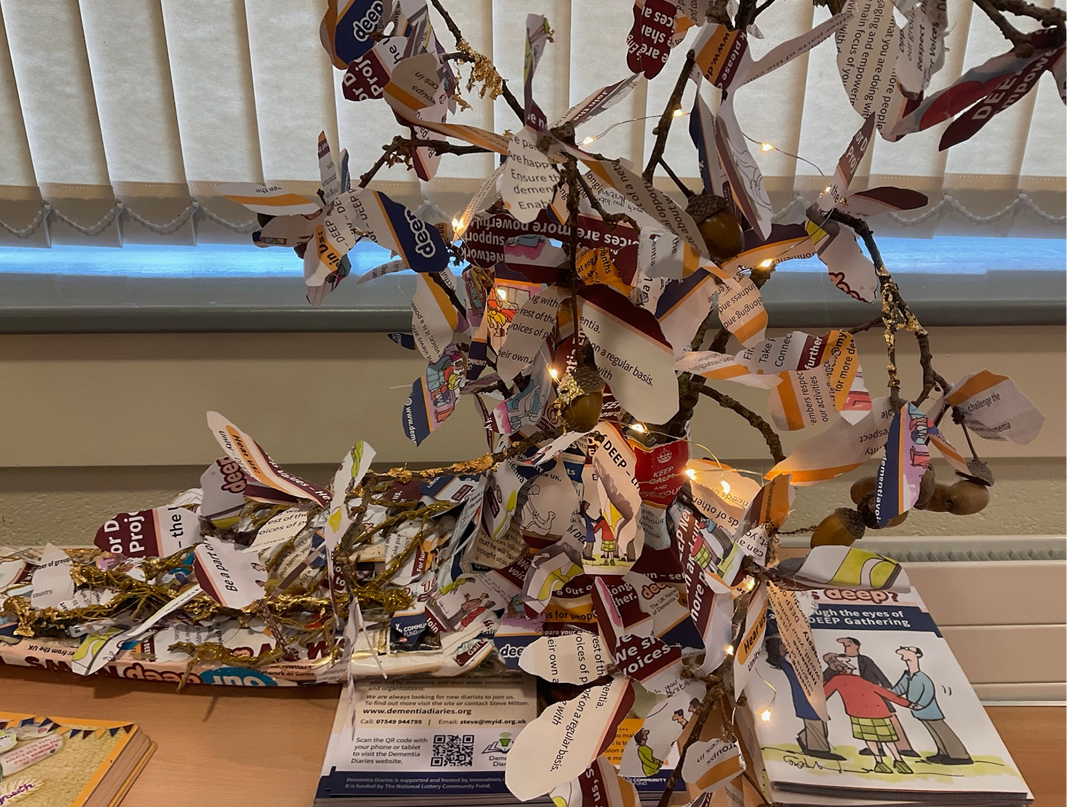 The DEEP tree is made from a fallen branch of a dying oak tree.

The tree has been brought back to life with a collage of inspirational stories from Our DEEP News.

The leaves of the DEEP tree are made up of the DEEP Values – Hear us, See us and Join us.

In the style of 'Kintsugi' the golden threads embrace all our flaws and imperfections.

The acorns are the golden nuggets, nurtured, nourished and shared.

The lights reflect that passing on of the light and the flame to one another.

The golden roots reflect how much goes on beneath the surface and behind the scenes. How the seeds we grow, and their roots, reach further than we will ever know or see.

Rachel Niblock UK DEEP Coordinator
You can read about DEEP's reaction to Covid-19 in "Dementia voices, hopes and opportunities: testimonies from people with dementia during the Covid-19 pandemic"
This year has been magical. Lots of DEEP Moments have added rich layers to the stories of DEEP from the last 10 years.
Do join us for our on-line festival from 5th – 9th December 2022 to mark the end of our anniversary year. There is a packed schedule of talks, films, podcasts and discussions that we hope will be a legacy to the work and impact (so far) of the DEEP network. To register for an event click here.
 "It's about our right to have a say, have a voice to influence what matters to us as people living with dementia."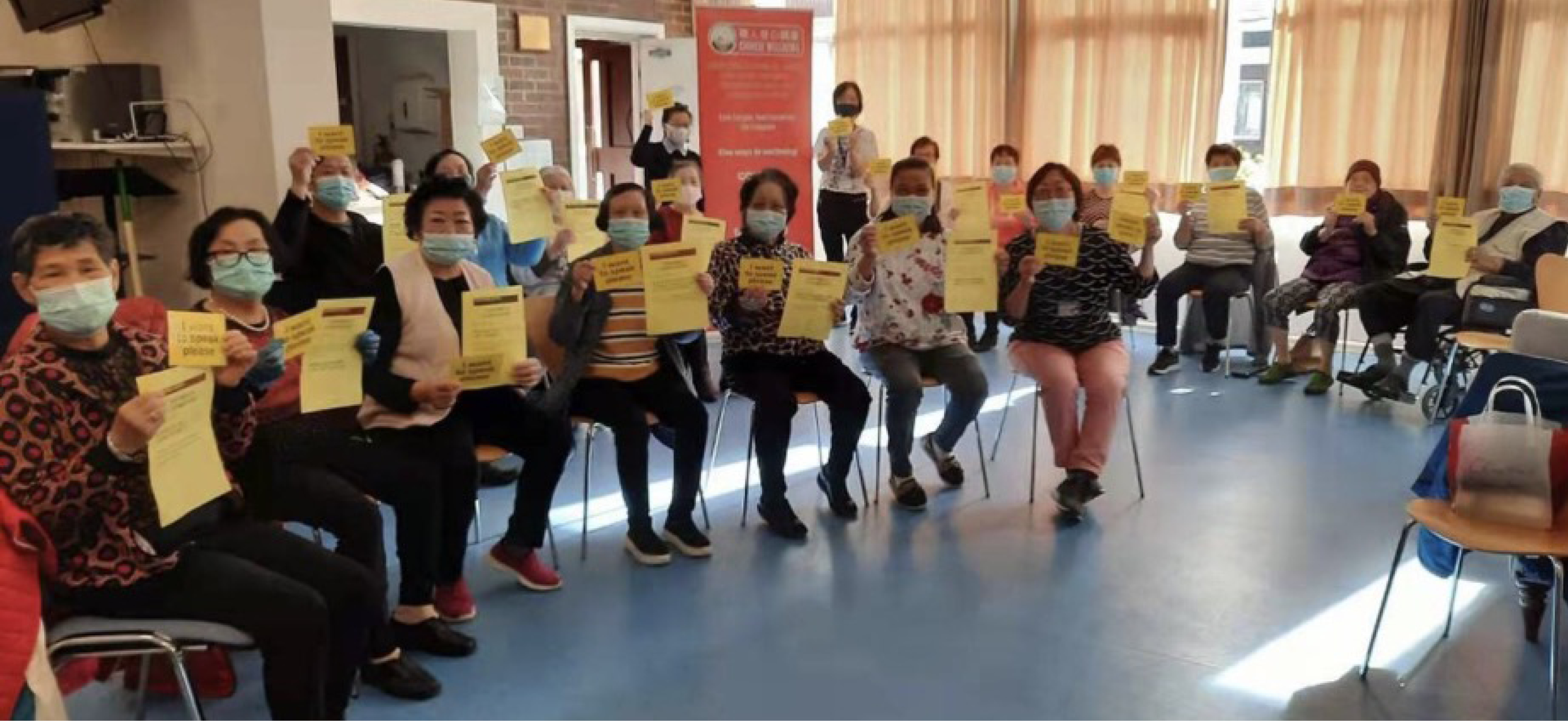 Rachael Litherland
Co-director, Innovations in Dementia